by Rachel, on November, 16 2012
I discovered crafts with flower pots last summer and I'm now found of them ! Here are the dolls I made last week for Chrismas, Father Christmas and Mrs Claus made of little pots, paint and glue.
To realise this Chrismas decor, you need pots, acrylic paints, pipe cleaners, googly eyes (but you can draw them), a small ball of polystyrene or crushed paper, small pom poms, wool for mother Christmas's bun, and glue.
Here are the pots I used, "cyl." for cyilndrical pots, and "cl." for classical pots.
Father Christmas : 2 x pots de 7 cm + 2 x pots de 5 cm + 2 x pots de 4 cm (arms) + 1 pot de 3 cm, all in classical shape.
Mother Christmas : 1 cyl. pot 8 cm and 1 cyl. pot 6 cm for the dress, 2 cl. pots 5 cm for head and bun, 4 cl. pots 3 cm for the arms.
For the pine tree : 1 cyl. pot 8 cm + 1 cl. pot 7 cm + 1 cyl. pot 6 cm + 1 cl. pot 5 cm + 1 cl. pot 4 cm + 1 cl. pot 3 cm
I began with painting the pots. According to colors, one to three layers are necessary (3 for red, one for gilt, two for green or white!)
Then, I began with mthe wife's bun using thick white wool, surrounded around a pot(that I had painted in white) beforehand glued, to give it a round volume. Besides, I surrounded a 10 cm cardboard with wool, which I tied on one side before cutting the threads on the other side.
I put a truncated ball of polystyrene (diameter 3 cm) on the pot, to give the shape of a bun, before putting the wool above and locking the "bun" with a thread.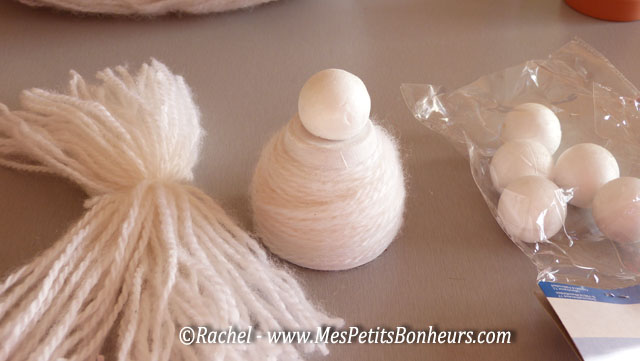 Then I glued the top of the jar and the bottom of the pot (inside and outside) to have the wool stick on it.
To maintain quite in position until the glue dries, I pushed another pot inside hair (the one who will serve later for the head of Santa Claus! 🙂 ).
I glued together the "jacket" and the "skirt" of Santa Claus's wife, then I bound arms (each of them made of two small pots) with one red pipe cleaner.
I added other small pieces of pipe cleaner to set the "neck" to level, before gluing the head. (It is not beautiful, but then, it is invisible!)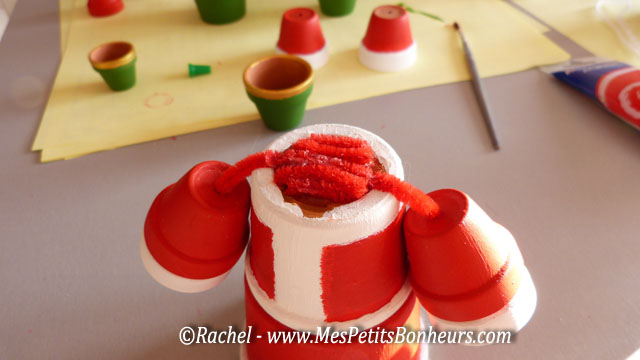 Here is the doll with head and hair !
Then I assembled my fir tree, from the biggest to the smallest pot. (I formally painted every border with golden paint.)
For Santa Claus, just proceed the same way…
When all the pots are glued, you can add googly eyes, pom poms, painted hair, beard and eyebrows. Santa Claus' s belt is made of black paper and golden paint.
What do you think about my Chrismas dolls ? 🙂
Similar posts in the blog...